Despite severe laws and punishment on drugs in Indonesia, cases continue to rise. : Rebcenter Moscow/Pixabay CC by 2.0 Rebcenter Moscow
Indonesia's war on drugs hasn't worked. Hundreds are on death row, executions are regular and the drug trade carries on.
Indonesia's war on drugs has been a feature of the country's heavy-handed criminal justice system. Over half of Indonesia's 404 death row inmates are facing execution for drug-related charges, making it — alongside countries such as Iran and Saudi Arabia — one of the most dangerous countries in the world to possess or sell drugs. And the crackdown has recently gained strength: of Indonesia's 94 death sentences recorded since the start of the pandemic, 80 were for drug-related offences (seven of whom were foreign nationals).
Support for the 'zero tolerance' approach is partly based on the idea that Indonesia's laws promote deterrence. However the data tell a different story. Since the most recent execution of a convicted drug offender in April 2016, prosecution for drug trafficking in Indonesia has kept rising. This suggests that the movement of drugs into Indonesia hasn't slowed, despite a long and concentrated effort from authorities.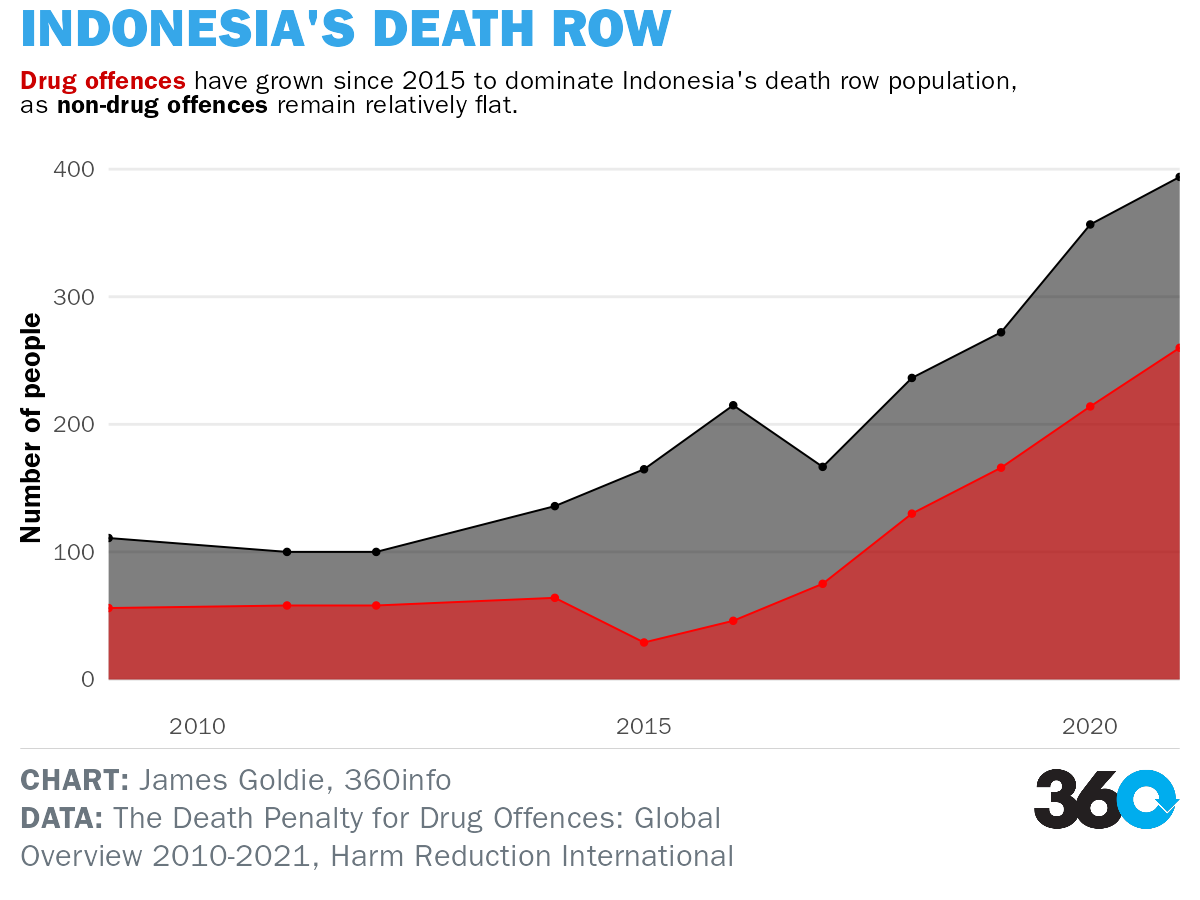 This failure has many culprits: corrupt bureaucracy within law enforcement, cultural issues within the legal field (such as tolerance of bribery), and socio-economic factors that see the poor, marginalised and victims of other crimes over-represented in the drug trade.
Meanwhile, drug consumption in Indonesia is declining. Curiously this coincided with a decade in which Indonesia somewhat softened its stance on drug users. A 2009 law granted judges discretion to impose rehabilitation in sentencing drug-users, while the country's leading health authorities established guidelines for rehabilitation and treating drug-use.
The system doesn't work well even after accused drug smugglers are arrested. Defendants increasingly receive a poor quality of legal representation owing to an underfunded legal aid system. Many accused have limited access to a lawyer in cases where their life is on the line. Foreign nationals sometimes face challenges accessing interpreters — a Filipino national was sentenced to death in 2015 in a trial in which she was provided with an English interpreter, despite needing a Tagalog interpreter, and only had her execution postponed well after the trial when additional evidence came to light.
In some cases, racial prejudice towards certain groups have undermined the rule of law and fair trials. Nigerian national Humphrey Jefferson was executed in 2016 over drug-related offences, after his request for judicial review was refused by an Indonesian court. In an investigation afterwards, the Ombudsman of the Republic of Indonesia found maladministration, citing discrimination from the Jakarta District Court as the catalyst for his request denial.
Indonesia's penal code prevents the state executing people who have a mental disorder but in practice, this hasn't always been observed in drug-related offences: in 2015, Brazilian national Rodrigo Gularte was executed despite doctors diagnosing him with paranoid schizophrenia and bipolar disorder.
The UN International Drug Control Conventions says regulating and managing drug supply is a matter of public health, which is echoed in Indonesia's domestic law. But in Indonesia's heavy-handed approach towards drugs in all forms — illicit or not — the country has developed a punitive culture that gets in the way of achieving more positive health outcomes. Indonesia treats drug issues as a security threat and not as a public health issue, meaning the policy and regulations around it become a question of law enforcement.
Indonesia's House of Representatives plans to codify the new criminal code soon. Those involved with drafting the new laws have championed them as a substantive reform of the death penalty, but vagueness and a lack of certainty over how the code will be interpreted may mean Indonesia's criminal law reform agenda stagnates.
Even if Indonesian lawmakers believe in the deterrent effect of the death penalty, it could co-exist as an alternative punishment — deployed in exceptional cases where the court decides it is warranted. However, in the draft law, the death penalty can still be imposed as the first and only punishment for a crime — without chance for an alternative, such as a prison sentence that allows for rehabilitation. For a reform that apparently prioritises human rights, leaving in laws that fall short of the international standard brings into question Indonesia's commitment to compliance. But so long as Indonesia's war on drugs rages, the criminal justice system will likely struggle to overcome its stagnation.
Asmin Fransiska is the dean of Faculty of Law and lecturer on drug policy and human rights at Atma Jaya Catholic University of Indonesia, Jakarta Indonesia. Her research is focused on drug policy, human rights and criminal law. Dr. Fransiska expresses no conflict of interest and do not receive special funds in any form
Originally published under Creative Commons by 360info™.
Authors
Asmin Fransiska
Atma Jaya Catholic University


Editor
Ria Ernunsari
Ria Ernunsari, Senior Commissioning Editor, 360info Southeast Asia

Reece Hooker
Reece Hooker, Assistant Producer, 360info Asia-Pacific

Sara Phillips
Sara Phillips, Senior Commissioning Editor, 360info Asia-Pacific


Special Report Articles